Moldmaking - German Molding Expertise and Know-how
EIC Mold Making mainly specialized in design, processing and manufacture stack mold, 2K mold, insert mold, thin wall and precision multi-cavity mold, serving home appliance, automotive, electronics, industrial products and other fields.
EIC Mold Making is well equipped with many advanced machines which are imported from Switzerland, Germany and Japan, such as Fanuc and Makino CNC, AgieCharmilles and Sodick Wirecut and EDM machines etc. Furthermore, to ensure mold quality, EIC Mold Making Shop possesses many precision inspection machines, such as CMM and Projector, Hardness tester, Electronic height gauge, Tool microscope and others.
Currently, EIC Mold Making Shop has about 200 skillful engineers and technicians with long mold design and mold making experiences. EIC Mold Making Shop has succeeded in serving product design, project management, technical support, mold design and manufacture, quality test and after service for worldwide famous enterprises such as B/S/H, GE, Atlas Copco, Haier, Whirlpool, Midea & Littleswan, YAZAKI, Miele, BOS, EMZ,Valeo, Fischer and many other renowned customers.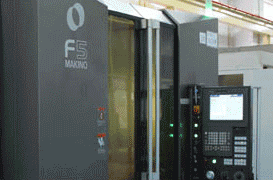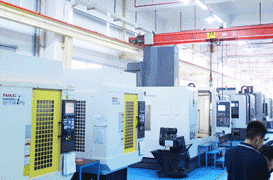 EIC Shenzhen Tooling Shop Machine Overview List

Year of
Manufacture

1
CNC
YEONG CHIN
YCM-NDV102A
2
TaiWan
2009/2011
2
CNC
MAKINO
F5
1
Japan
2010
3
CNC
FANUC
α-T14iFb
1
Japan
2010
4
CNC
YOUJIA
VMP-40(FANUC0IMD)
1
China
2011
5
CNC
FANUC
α-T14iFb
1
Japan
2012
6
CNC
YEONG CHIN
YCM-WV108B
1
TaiWan
2012
7
CNC
FANUC
α-D14MIA
1
Japan
2013
8
CNC
MORI SEIKI
NV50000@ 1B/40
3
Japan
2015
9
CNC
MAZAK
FJV35/60-II
1
Japan
2015
10
EDM
AgieCharmilles
FO35P
1
Switzerland
2009
11
EDM
AgieCharmilles
FO35P
1
Switzerland
2010
12
EDM
TopEDM
DE540
2
TaiWan
2011
13
EDM
Han Spark
HE70
1
China
2015
14
EDM
Han Spark
HE180
1
China
2015
15
EDM
AgieCharmilles
FORM 200BP
1
Switzerland
2015
16
EDM
AgieCharmilles
FORM 30
1
Switzerland
2015
17
Wirecut
HualongDaJin
DK7732HB
1
China
2009
18
Wirecut
AgieCharmilles
FI240SLP
1
Switzerland
2009
19
Wirecut
SODICK
AG600L
2
Japan
2010/2011
20
Wirecut
BAOMA
DK7732C
1
China
2011
21
Wirecut
SODICK
AD360L
1
Japan
2012
22
Wirecut
HualongDaJin
DK7732PB
1
China
2015
23
Wirecut
HualongDaJin
DK7750PB
1
China
2015
24
Wirecut
AgieCharmilles
CUP 30P
1
Switzerland
2015
25
Wirecut slotting
Hosen
HS4535
1
China
2015
26
Wirecut slotting
Hosen
HS4030
1
China
2013
27
Driller
JIAYE
Z3032/10
1
China
2009
28
Driller
HongYing
HC-1600
1
China
2015
29
Grinding
JIAYE
M618S
1
China
2009
30
Grinding
DATONG
TSG-450
2
TaiWan
2009
31
Grinding
DATONG
TSG-450
1
TaiWan
2010
32
Grinding
KENT
KGS-84AHD
1
TaiWan
2009
33
Grinding
KENT
KGS-618M
2
TaiWan
2011
34
Grinding
YUQING
YSG-618S
2
TaiWan
2015
35
Grinding
KENT
KGS-510AH
1
TaiWan
2013
36
Lathe
NanFang
C6132A/C6140A
2
China
2009/2011
37
Lathe
Guangzhou Jichuang
G-CNC350
1
China
2012
38
Milling
AYI
M4
5
China
2009
39
Milling
KENT
KTM-5H/4H
4
TaiWan
2010
40
Milling
KENT
KTM-5H/4H
2
TaiWan
2011
41
Mold-Fitting
SHIYI
LS-120
1
China
2010
42
CNC Gun Drill
JINGZHUN
DH-1300
1
China
2013
43
Sawing
HEJI
H-5550
1
TaiWan
2015
44
CNC
DMG Mori
HSC 75 linear
1
Germany
2016
45
Wirecut
AgieCharmilles
CUT E 600
1
Switzerland
2017
46
Mould turning machine
SHIYI
MF-15
1
China
2018
47
CNC
MAZAK
FJV60/80-II
1
Japan
2018
48
EDM
TopEDM
CNC-850
4
China
2018
49
EDM
TopEDM
CNC-400
2
China
2018
EIC Suzhou Tooling Shop Machine Overview List

Year of
Manufacture

1

CNC

YEONG CHIN

TV158B

1

TaiWan

2013

2

CNC

FANUC

a-D14MIA

1

Japan

2013

3

CNC

YOUJIA

VMP-40(FANUC0IMD)

1

China

2012

4

CNC

QUASER

MV204E

1

TaiWan

2014

5

CNC

MORI SEIKI

NV50000@ 1B/40

1

Japan

2015

6

CNC

YEONG CHIN

YCM-WV108B

1

TaiWan

2015

7

CNC

FANUC

a-D14MIA

1

Japan

2015

8

EDM

TopEDM

DE540

1

TaiWan

2012

9

EDM

TopEDM

CNC800

1

TaiWan

2013

10

EDM

TopEDM

CNC800

1

TaiWan

2014

11

EDM

AgieCharmilles

FORM30

1

Beijing

2014

12

EDM

Han Spark

HE100

1

China

2015

13

EDM

Han Spark

HE100

1

China

2015

14

Wirecut

BAOMA

DK7732-H

1

China

2012

15

Wirecut

AgieCharmilles

CUT E600

1

Beijing

2019

16

Wirecut

SODICK

AG600L

1

Japan

2014

17

Wirecut

AgieCharmilles

CUP 30P

1

Beijing

2015

18

Wirecut slotting

BAOMA

DB703

1

China

2012

19

Wirecut slotting

ZHONG GU

2GD703C

1

China

2015

20

Driller

Hong Ying

YH-1100

1

China

2012

21

Grinding

KENT

KGS-510AH

1

TaiWan

2014

22

Grinding

KENT

KGS-84AHD

1

TaiWan

2012

23

Grinding

KENT

KGS-618M

1

TaiWan

2012

24

Grinding

DaTong

TSG-450

1

TaiWan

2013

25

Grinding

YuQing

YSG-618S

1

TaiWan

2015

26

Milling

KENT

KTM-4H

3

TaiWan

2012/2013

27

Milling

KENT

KTM-5H

3

TaiWan

2013/2014

28

Lather

NanFang

C6132A

1

China

2012

29

Spotting Press

SHIYI

LS-200

1

China

2014

30

Sawing

He Xu

S-12H

1

China

2015

31

Wirecut

SODICK

ALN600Gs

1

China

2017

32

CNC

FANUC

a-D21MIA

1

Japan

2017

33

EDM

Han Spark

HG150

1

China

2017

34

Mould turning machine

SHIYI

MF-15

1

China

2018

35

CNC

MAZAK

FJV-60II/80II

1

Japan

2018